Mori has made its mission to create "cities-within-the-city" complexes, most notable in Roppongi but also in Aoyama with the Omotesando Hills.
In mid-2014 Mori Building opened the Toranomon Hills complex, the latest addition to the ever-changing Tokyo skyline.
But Toranomon Hills is actually just the initial phase in Mori's ambitious efforts to transform the Toranomon area into a global hub.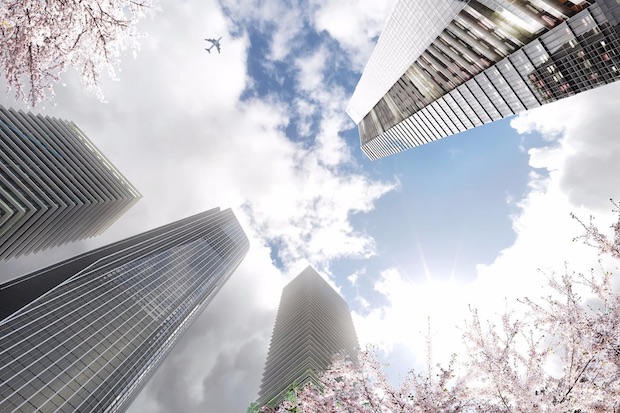 As announced by Mori this week, future plans for the 7.5-ha district will include three more mixed-used towers in addition to the main Hills, all linked by an elevated park. This will effectively create a whole new high-end business district in Toranomon, which is not exactly an under-developed area even now.
"The city and its people need to constantly evolve in order to bolster the city's power to attract creative individuals and enterprises from around the world", said Shingo Tsuji, CEO of Mori Building. "We believe that Toranomon Hills complex will continue to catalyze economic, cultural and environmental changes, establishing the area as a hub for international business that will enliven and strengthen Tokyo as a whole."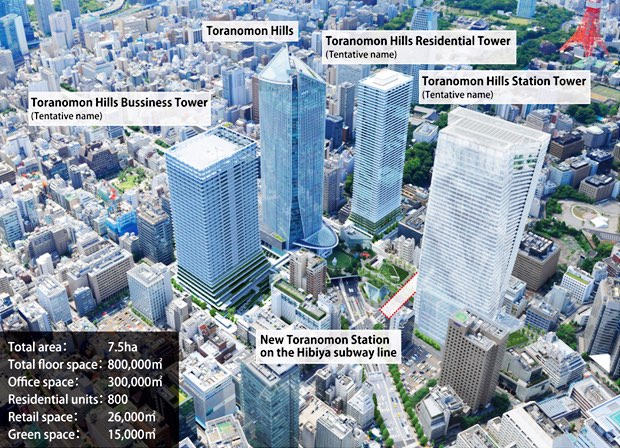 The existing Toranomon Hills already has 52 floors stretching up 247 m (810 ft), offering office space, conference facilities, luxury residences, shops and restaurants, not to mention 6,000 sq m (65,000 sq ft) of very welcome green space.
The tower will be joined by the 36-floor Toranomon Hills Business Tower, the 56-floor Toranomon Hills Residential Tower and the Toranomon Hills Station Tower, in addition to a whole new subway station on the Hibiya Line.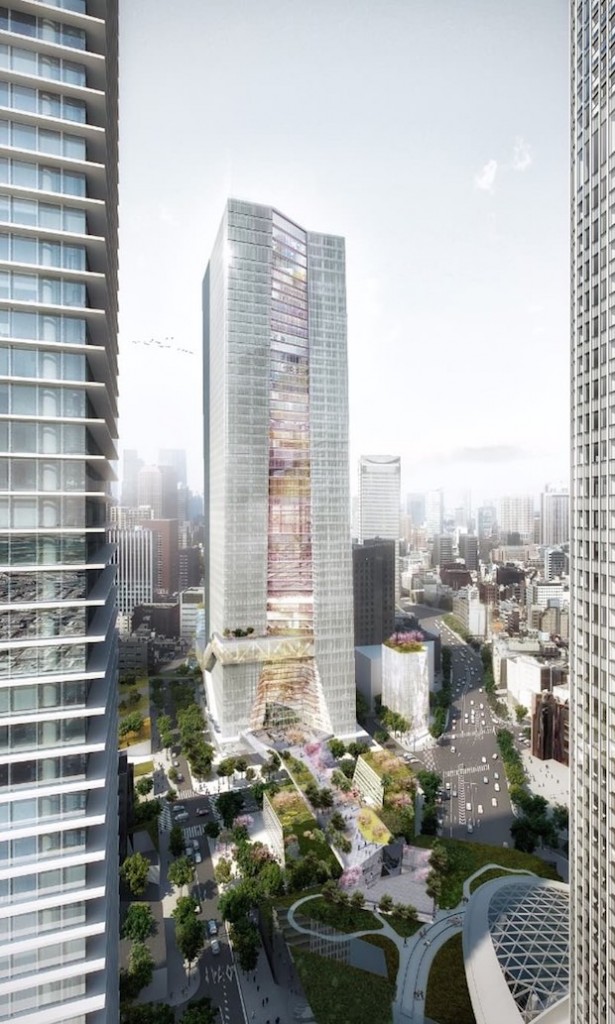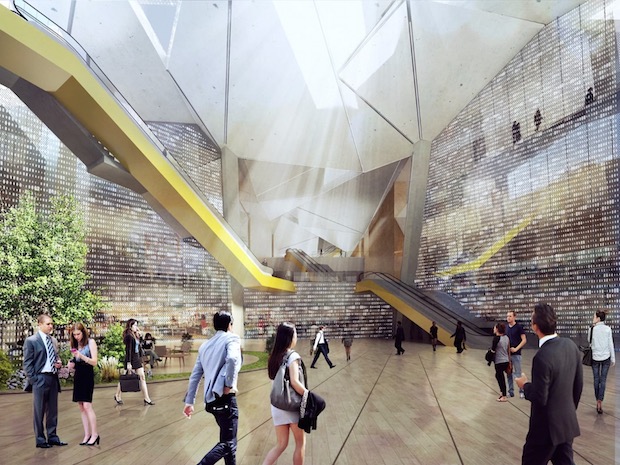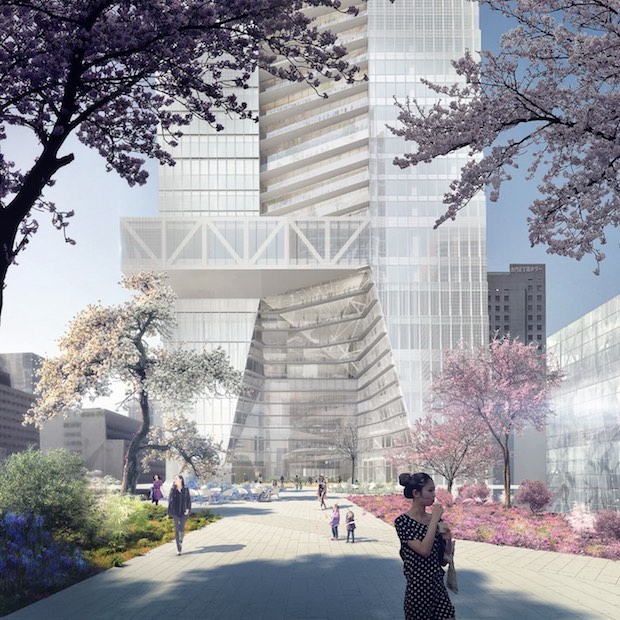 When complete, there will be about 800,000 square sq m (8,611,128 sq ft) of total floor space, roughly equivalent to that of Roppongi Hills, including about 300,000 sq m (3,229,173 sq ft) of office space and 26,000 sq m (279,861 sq ft) of retail space.
The Business Tower will provide "office space, salons and seminar venues for venture capitalists and top companies' new business development divisions."
To bring world-class sophistication to the design, Mori has tapped German architect Christoph Ingenhoven to direct the tower's external design and leading Japanese interior designer Masamichi Katayama to undertake the interior design of retail facilities.
As well as the subway station, the development will form a new transport hub through the twin bus stations inside the Toranomon Hills Business Tower to link the area to central Tokyo, the city's bay area (currently undergoing its own vast redevelopment) and airports.
The Toranomon Hills Business and Residential Towers are due for completion by 2019, in time for the Olympics. Some subway services will also begin by then, plus Toranomon will provide access to Loop Road No. 2, a trunk road also due to be finished in 2020 and connecting Shimbashi to the rapidly evolving bayside area of Toyosu.
Some details are still to be finalized about the Station Tower, scheduled to open in 2022, but it will mirror the Business Tower's approach.
Mori Building's signature style of integrated development will provide a soothing greenery-filled environment that also facilitates the movement of visitors, workers, and residents around the complex and through the city. The project will be designed by OMA principal Shohei Shigematsu in collaboration with founding principal Rem Koolhaas.
The luxury Residential Tower will add some 600 units to the area, and come with facilities including spa and fitness center, childcare facilities, and 24-hour bilingual concierge.
The interior will be designed by Tony Chi, the NY-based designer responsible for the Grand Hyatt Tokyo and Andaz Tokyo. Christoph Ingenhoven will design the exterior of this tower as well to ensure a harmonious balance with the adjacent Toranomon Hills Business Tower and the existing Toranomon Hills.
The district's emphasis greenery is part of a vision to a more environmentally friendly urban space, linking up with the nearby Atago Green Hills, another Mori development.