It was announced on May 22nd that a task force will push ahead with finalizing concrete ways to relocate a 1.2-kilometer elevated portion of the Shuto Expressway in Tokyo that currently covers Nihonbashi Bridge.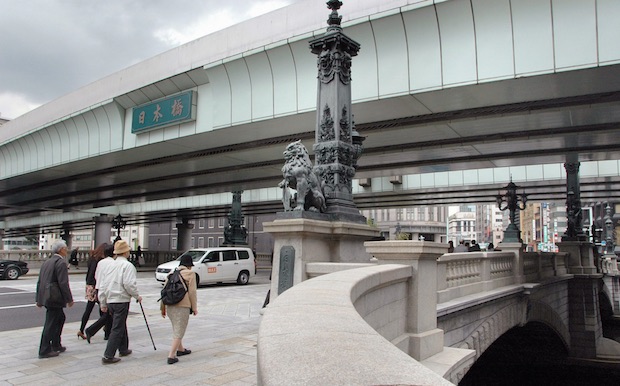 The plan will be decided by the summer, reports Kyodo.
The task force, comprising the transport ministry, the Tokyo Metropolitan Government and Metropolitan Expressway Co., initially considered moving underground a 2.9-kilometer section of the Inner Circular Route, including the 1.2 kilometers between the Edobashi and Kandabashi junctions.

But the length of the section was shortened by the exclusion of a redeveloped area.

To cut costs, the proposal calls for the utilization of an existing tunnel covering a 500-meter section between the Kandabashi Junction and a point near the Ikkoku Bridge, with the remaining section between Ikkoku Bridge and the Edobashi Junction moving underground.
The starting point for the five key routes of historical Japan, Nihonbashi ("bridge of Japan") is one of the symbols of Edo (as Tokyo was formerly known). It is now covered by a stretch of the Shuto Expressway — itself a symbol of postwar Japan and part of the build-up for the 1964 Olympics — that critics regard as an eyesore. A campaign to free the bridge and restore one of the iconic landscapes of the city has been ongoing for several years.
Such measures to improve the aesthetic of Tokyo are presently underway with gusto ahead of the 2020 Olympics in mind. Many stations are undergoing massive refurbishments, most notably JR Harajuku Station. Some of this is fueled by the desire to "showcase" the capital to the rest of the world in the best possible light as well as by tinges of nostalgia, including this decision to "restore" Nihonbashi and recapture a lost part of Tokyo history.
However, in this case, the construction will not begin in time for the 2020 Olympic Games, which may disappoint some architect fans.