Takara-Tomy's latest addition to the Omnibot series of robot toys is OHaNAS.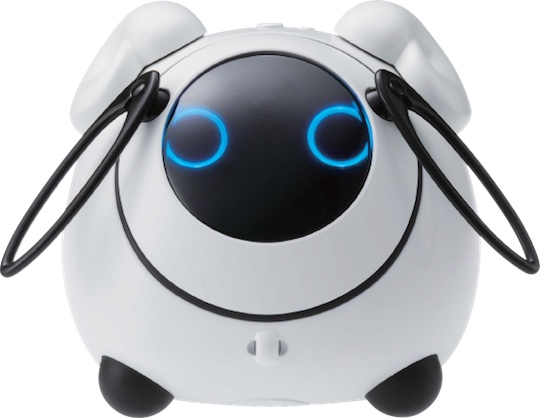 All you need is the phone app, a Wi-Fi connection and Bluetooth, and OHaNAS will be able to interact with you, such as giving you seasonal greetings and telling you about the weather. The makers claim it can have a natural conversation.
There are several unique elements here.
Firstly, OHaNAS (whose name means "talking") looks like a sheep.
Secondly, it doesn't move, in contrast to a lot of other robotic pet toys.
Thirdly, it was co-developed with NTT DoCoMo to be able to look things up and hook up with cloud "dialogue platform". E.g. ask it who the president is and OHaNAS will be able to go online and find out.
It's not clear how many of the functions will work outside Japan and away from the NTT servers, but some features are universal — such as how the face lights change to reflect emotion, such as being sleepy.
Stroke it and hold it to see its emotions change. It also makes noises to let you know if it's enjoying what you are doing. A "fun" game is to shake it and watch it faint!
Unfortunately the robot only appears to talk and understand Japanese, though an English version is apparently under consideration.
It's telling that more and more robotic pets in Japan are being aimed at kids, from the Omnibot toys to the recent Meebo kindergarten monitoring robot. While makers are developing robotic nurses to assist with care for the growing numbers of elderly people in the country, it seems that as a whole people are determined to choose cute over functionality.