As previously reported on JapanTrends, AKB48 has recruited a new older female member for its ranks as part of a spring and summer campaign for Papico, an ice cream product by Glico.
There was some publicity during the auditions where a few famous performers and celebrities got down to the final candidates.
The winner was announced in Yokohama on April 17th.
In the end, the privilege of being a temporary thirty-something idol in Japan's biggest money-making factory of music and scanty clothing has gone to a 37-year-old housewife named Mariko Tsukamoto.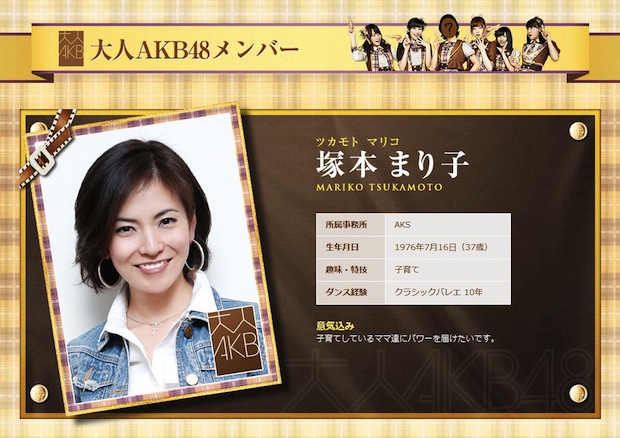 Tsukamoto was born in 1976 and is a trained ballet dancer, but otherwise a complete unknown in the entertainment or idol worlds. Her officially listed "hobby and special skill" is "raising kids". Some of the girls in AKB are young enough to be her children so perhaps she can put her skills to good use in the dressing room.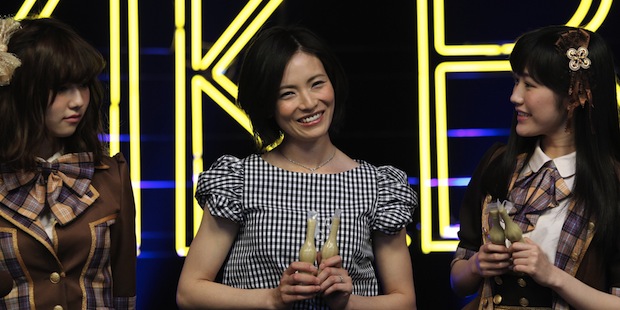 She beat 5,065 other candidates (including an 82-year-old woman!) and will now have to balance looking after her two kids with her duties in AKB48 until August 31st. Presumably a new career in showbiz also awaits her once her AKB stint is done.