Konkatsu is the "marriage-hunting" dating activity popular recently. Kind of like dating for the serious-minded.
Well, it stands to reason that even otaku (which very broadly translates as "geek") should have events and services looking to supply them with future partners. And that they should attend them in their own inimitable style.
An "Ota-konkatsu" series of match-making events has been held in Kuki City in Saitama since 2009. The town is home to one of anime's "holy sites", the Washinomiya Shrine, which was a location in the 2007 television adaptation of Kagami Yoshimizu's manga Lucky Star. Since then it has become a much-visited "pilgrimage" route for anime fans (in this way, anime tourism connects to regional re-development campaigns — but that's a subject for another day and another blog post).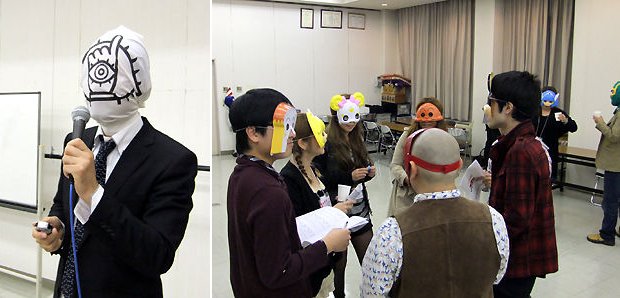 The tenth Ota-konkatsu event was held recently, involving nine men and eight girls. This time it was visually a bit different, though. Everyone was wearing masks!
Being shy types, no doubt the self-professed otaku would have appreciated being able to conceal their youthful faces. But these weren't just any masks; they were naturally masks for popular characters from anime or manga. Even the MC's face was hidden (rather ominously, in our opinion). The whole thing resembled a kind of masked ball for geeks.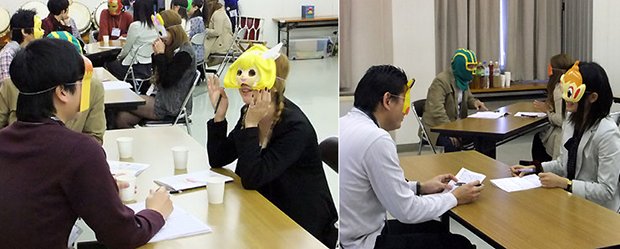 Cleverly combining cosplay and match-making, fans could celebrate their favorite characters, as well as potentially your Mr. Right or Mrs. Right. Plus, with no one looking at your face, you know that finally, it's not about your looks, just your personality!
The male and female participants arrived at different times so that no one would see each other beforehand. After donning their masks, you didn't then take it off till after the event was over, thus preserving your modesty and anonymity (presumably you could exchange contact details and meet up with someone you hit it off with, sans mask, at a later date).
The event seemed to be a success so the organizers have already organized a follow-up at the end of this month. It costs ¥4000 (about $50) for guys and just ¥1000 (about $12) for women, including the use of the masks.

Previous Ota-konkatsu events at Kuki have involved group cooking events and typically have a limit of up to 20 or 40 participants per session.
[Pics via
Mantan
]