As we know, officially Japan does not have an army, it has the very large and well-funded Self-Defense Forces (Jieitai). While its defensive role is currently up for debate, the SDF is ostensibly there to "protect" and look after Japan and its population. And this of course includes Japanese women.
The SDF's Mamor magazine, which tends to feature women on the cover (typically Gravure idols in SDF uniforms, known in Mamor terms as the "Monthly Venus"), is popular with readers for the information it offers on the exploits of Japan's soldiers. The title of the publication is a play on mamoru, meaning "to protect" in Japanese, though spot the "amor" in there too.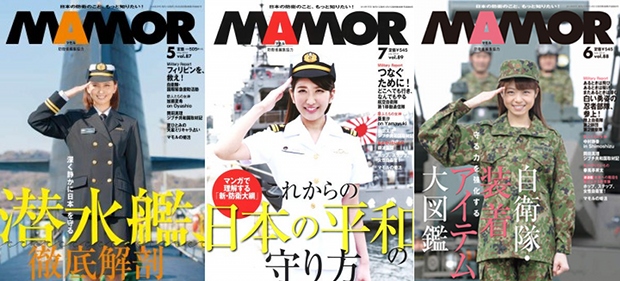 Yes, in between plenty of articles on gear and military matériel, Mamor has also run konkatsu "marriage hunting" articles about single SDF soldiers.
Women in Japan are increasingly interested in finding a future partner from the ranks of the SDF, apparently because the men are good at cooking, washing, cleaning and repairing things. The SDF's public image also got a huge boost in the wake of the 2011 Tohoku disaster, where thousands of soldiers were dispatched to take part in rescue and recovery operations.
"After the quake, they looked very reliable," said one woman who attended a matchmaking event in 2013 that was heavily oversubscribed with female applicants. "Even though the SDF soldiers all had their own families, they worked hard for the victims."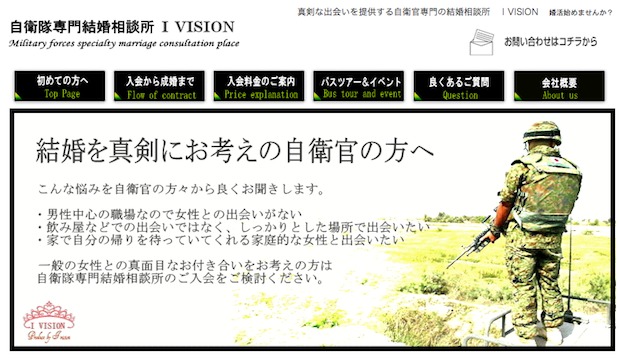 One foreign woman married to a Japanese SDF soldier says "she thinks her husband's job is something to be proud of because it reveals the strengths of his character, like loyalty, commitment and discipline."
There are even numerous special konkatsu introduction services for linking women with prospective soldiering hubbies, such as Jietai Premium Club and I Vision (pictured).
The question now is if the government has its way and turns the SDF into a proper army, will Japanese women be put off — or turned on?