This April, fashion brand Pac-Store is teaming up with Harajuku's Kawaii Monster Cafe for a special collaboration event featuring Pac-Man in all his yellow-headed glory.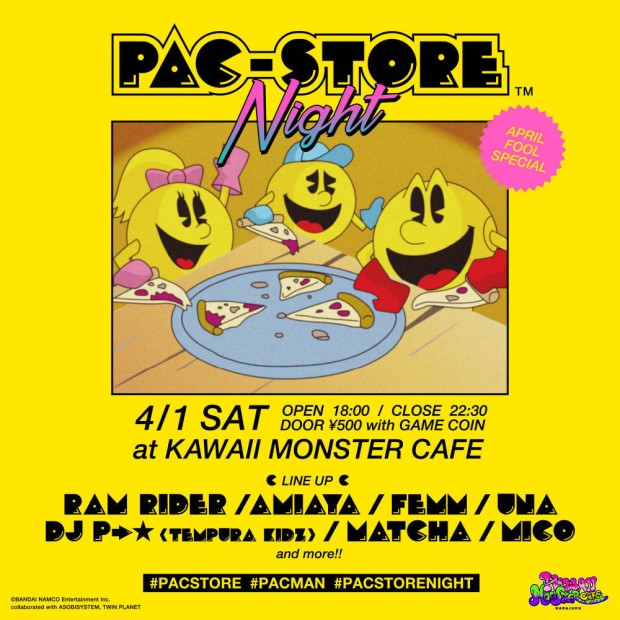 The Pac-Man x Kawaii event kicks off April Fool's Day with a bout of sensory overloading festivities. At the door, guests receive a free game token to use at one of the vintage arcade machines set up exclusively for the event. There will also be live music throughout the day from artists, including RAM RIDER, AMIAYA, and mico. Guests will, of course, want to try the special set menu, which consists of pizza, salad, dessert and a matcha-melon drink all conspicuously formed, sliced and arranged to appear like none other than Pac-Man himself. The multi-course meal runs ¥2,900 and, although the festivities only last a day, will be available through April 9th.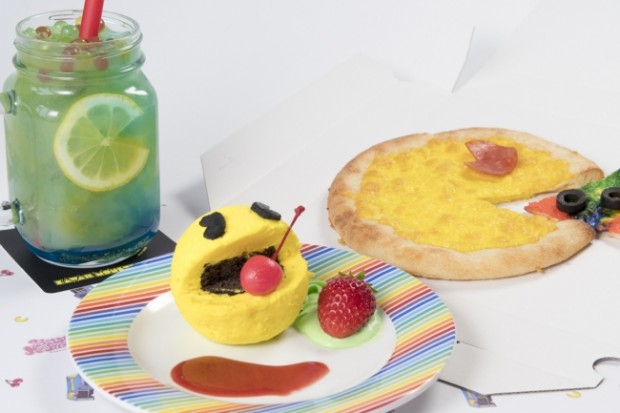 Launched last November by three childhood friends, the Pac-Store clothing brand aims to rejuvenate the videogame character's appeal for a younger generation of fans who weren't around for Pac-Man's 1980s heyday. To be sure, there is no brick-and-mortar store flashing Pac-Store in neon across the facade. It's a fictional place in the Pac-Man 8-bit universe, but the merchandise is real.

Boasting a fittingly retro-chic aesthetic with bright colors balanced with a modern minimalist sensibility, Pac-Store apparel successfully marries the video game and fashion worlds. Current offerings include patterned one-piece dresses, clutch bags, denim caps, and plenty of graphic tees. The entire selection of Pac-Store merchandise is available now at Bandai Namco's online store LaLaBit Market.
To enter the Pac-Man x Kawaii event, you'll have to fork over ¥500 unless you're a foreigner wielding this free-entry flyer and an ID card. Doors are open from 18:00 to 22:30.