Singaporean photographer Leslie Kee (41) has been arrested by Tokyo police on suspicion of distributing obscene imagery, a development that will surely ignite a fierce debate over the freedom of expression for artists in Japan.
Kee and two others were nabbed by police on suspicion of selling at least seven copies of Kee's photo books to two customers at hiromi yoshii roppongi gallery as part of Kee's current exhibition at the well-known venue.
Kee's new series, "Super Goh" and "Super Miki", feature extensive male nudity. (Kee is a popular figure in the gay world.)
The Tokyo-based Kee is a star in the local fashion and art worlds, having photographed music artists as major as Ayumi Hamasaki and Seiko Matsuda. He has also worked internationally, including album cover photography for Lady Gaga and famous portraits of the likes of Quentin Tarantino.

Japan, despite having one of the most profligate adult industries in the world, still maintains a bizarre schizophrenic attitude towards depictions of nudity.
A porn producer such as Soft on Demand can have a massive billboard in Shibuya — but to show direct images of genitalia is forbidden under an ambiguous century-old law introduced when Japan was attempting to copy western (i.e. Christian) morality.
This is the reason for the "mosaic" pixellation not just of pornography but also regular films with full-frontal nudity, and of course, photo books as well.
Japanese fringe theatre also suffers from this situation, in that while nude scenes do take place, technically it is not protected by the law and the production could be shut down if patrons then reported the performers to the authorities.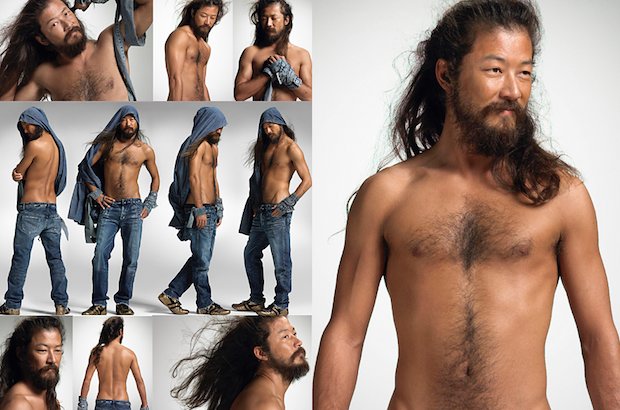 There is definitely something sexist at work here. There are plenty of so-called "hair nude" photo books with female actresses and models stripping off for publications sold in mainstream book stores (usually bound so browsers cannot open them). This has become more and more common over the last twenty-five years, even if the "boom" for them has died off recently.
But full male nudity is much rarer. And yet how sad that Kee, a Singaporean who no doubt relished Japan's lack of strictures compared to his home country, would have to face the cops for his photography.
Kee certainly wasn't being discreet, though. The exhibition at hiromi yoshii roppongi was even called "FOREVER YOUNG Uncensored Edition !!!! Male Nude Photo Exhibition by LESLIE KEE". (One of the other arrested apparently included Yoshii, the gallerist, but there have been conflicting reports about this.) It opened on February 2nd and is (was? will it have to shut down?) set to run until March 6th. The sale of the uncensored photo books seems to have happened on the opening night of the exhibition.
*UPDATE*: The exhibition has been cancelled! Japanese police, congratulations on your act of censorship!