Last week we wrote about Rakuten's new drone delivery service for golf courses. And now comes another great example of how people in Japan are showing us what drones can do. Hopefully the government is also watching and learning that drones are exciting new tools that can be exploited in new ways, rather than dangerous toys requiring legislation.
Produced by MicroAd and directed by Shu Shinkawa, Sky Magic Live at Mt Fuji is a "drone entertainment show" featuring 20 flying machines in swarming formations against the incredible backdrop of Japan's tallest mountain.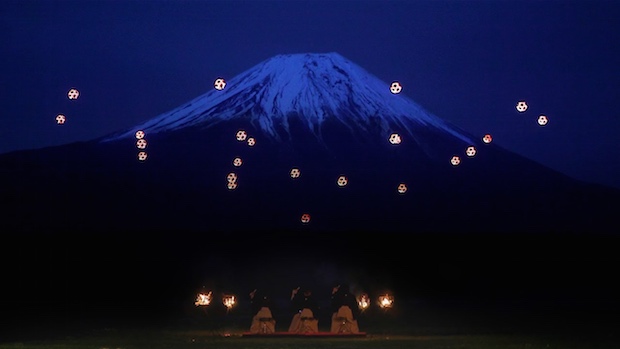 As if the World Heritage site wasn't enough, the drones fly to the sounds of shamisen music played live in front of the mountain. On top of the 16,500 LED lights and perfectly choreographed, DMX512-controlled swarms, it adds up to a true audio and visual feast.
Led by creative director Tsuyoshi Takashiro, Sky Magic is a project exploring the potential for drones to be used in advertising.
The shamisen performance is provided by Tsugaru-Jamisen Oyama-kai. This is another example of the players' partnership with MicroAd's drones.
If these kinds of crossovers are your thing, then be sure to check out last year's rendition of Smooth Criminal performed on shakuhachi and koto.