Dogged by problems since preparations began, the 2020 Tokyo Olympics now face another potential scandal. The Guardian has revealed a mysterious payment made to a Singaporean bank account linked to a former IOC member's son.
The payment of around €1.3m (about $1.5m) was made by the Tokyo Olympic bid team to an account linked to Papa Massata Diack, who is the son of disgraced athletics chief Lamine Diack and is himself under investigation for possible financial misdeeds in 2009 over the Doha bid for the 2016 Olympics. Diack Sr resigned as president of the International Association of Athletics Federations (IAAF) after allegations he had accepted massive bribes to cover up positive Russian doping tests.
What the payment was for is currently the subject of intense speculation and police attention in France.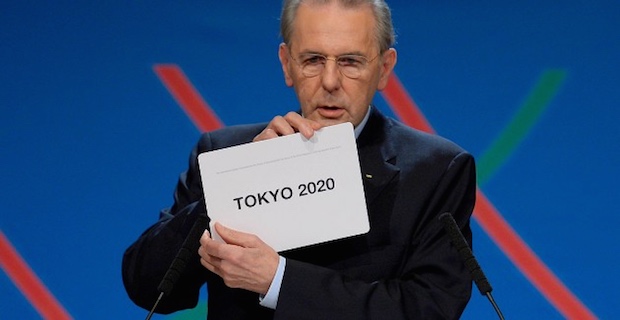 As The Guardian notes, "any suggestion that votes could have been were bought will be hugely embarrassing for the IOC, which has set great store by the probity of its bidding process since reforms following the bribery scandal which erupted preceding the 2002 Salt Lake City Winter Games."
Papa Massata Diack, described as "a sort of Keyser Söze of the often murky world of sports marketing," worked with Japanese ad agency giant Dentsu to seek sponsorship deals in developing markets. He is alleged to have requested $5m from Qatar at a time when it was bidding for the 2017 world athletics championships and the 2020 Olympics.
Dentsu is also apparently implicated, since its sponsorship contract with the IAAF runs until 2029, having been unilaterally extended by Diack Sr in the final months of his presidency.
The Tokyo 2020 Organising Committee has claimed it had nothing to do with the bid and cannot comment on the payment. "The Tokyo 2020 Organising Committee has no means of knowing these allegations," a spokesperson told The Guardian. "We believe that the Games were awarded to Tokyo because the city presented the best bid."
Well, the Japanese Olympic Committee, which handled the bid, should know, right? No, they claimed their entire PR team is away on a business trip and cannot respond to the allegations. Dentsu was also involved with the bid (and with the preparations for the Olympics), but it told The Guardian that it knows nothing about the payment to the Singaporean bank account known as Black Tidings. The chair of the bid committee is also the chair of the JOC.
As we saw with the fiasco of the National Stadium's inflated construction costs that ultimately led to the late Zaha Hadid's design being scrapped in favor of a cheaper one by a Japanese architecture, the various committees and bureaucrats in the national and Tokyo governments are quite adept at deflecting responsibility.
Given Dentsu's power over the media in Japan, it will also be interesting to observe the extent to which this development gets reported locally.