While we all know Shibuya and Shinjuku for their great selection of bars and eateries (in between all the gazillions of chain places, of course), but what about some of the more tucked-away or lesser known parts of the city?
The bars themselves are always changing so we have refrained from making precise recommendations, however here is a short and incomplete list of some of the best hidden neighborhoods in the remarkable city that is Tokyo.
Asagaya
Almost all the stops along the JR Chuo Line west of Shinjuku offer something to see and do. Asagaya is no different, with plenty of places to eat and drink in the meandering shopping arcades. Don't shy away from Nakano either.
Gaienmae
This cool neighborhood is a stone's throw from Omotesando and still has much of Aoyama's chic. However, there are also lots of public sports facilities nearby, plus a host of funky cafes and stylish holes to go drinking. On the main corner is Sign, a much-frequented artsy cafe, though there are several places in the same building, and if you then follow the road round towards Chichibunomiya Rugby Stadium, there are even more joints to explore. And that's before you start heading into the backstreets.
Ikebukuro
Don't believe the rumors. Ikebukuro is more than just a motley collection of love hotels and Chinese restaurants. Belying its reputation as a last-stop transport hub before the wilderness of Saitama, there are actually some cool places to eat and drink in the streets behind Junkudo and in the Theater Green area, plus the nearly Azuma-dori is also lined with some surprisingly good restaurants.
Koenji
This hardly qualifies as hidden. Koenji is very well-known as a mini oasis of music venues and cool bars for those who want to get away from the noise of Shinjuku. Perfect for a bar crawl along the whole of the Chuo Line.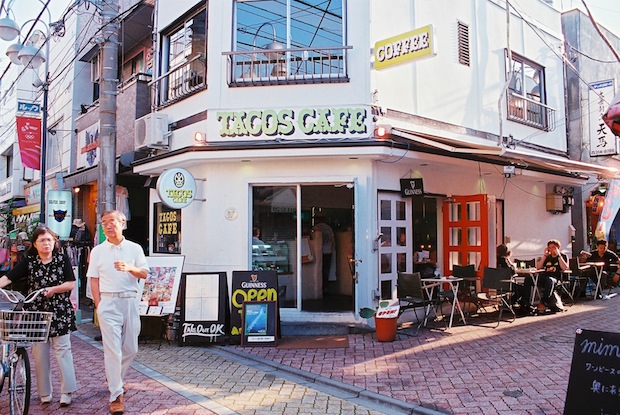 Image via Urban Research
Nakameguro
The glory of Nakameguro is its two sides. If you want some more sophisticated and quiet times, head to the canal where there are lots of pricey places to eat and drink with a scenic view. For more rustic charms, head up the shopping arcade behind the station and pop into any one of the small restaurants along the parallel sloping streets. Nakameguro offers everything from gaijin-friendly bars to Mexican restaurants, izakaya, craft beer and more.
Okachimachi
This is a place to go if you want some retro coffee shop action, complete with old geezers, cigarette smoke and more. Be warned, the area can get a bit sketchy if you go down the wrong alley, though the bright lights of Ueno Station and the park are not so distant should you seek refuge.
Sangenchaya
Positioned somewhere between Shibuya, Nakameguro and Shimokitazwa, Sangenchaya is a laid-back mini center only 2km from the heart of Shibuya. There are lots of places to explore here, such as the street that runs down between the police box and the McDonald's (Suzuran-dori). Our favorite is Sankakugai (Triangle Town), the maze of restaurants and bars that exist between the two main roads.
Shimokitazawa
Catch it while you can. This much-loved mini district is changing rapidly. First there was a huge complex built with a UNIQLO and other big chains. Then the whole station got revamped into an underground airport. The old grocery stores and restaurants near the station are closing down and it's hard to say how long this warren of small streets, quasi-hippies and countless places to sip, eat and be merry will last.
Shibuya Nonbei Yokocho
Turn right out of Hachiko exit and tucked behind the JR Yamanote tracks is this great couple of streets of tiny bars and restaurants. There are no toilets (you need to use the public ones) and some places are hard to enter for the uninitiated, but you can discover some real treasures here — both in terms of cooking and atmosphere.
Shinjuku Golden Gai
Golden Gai has become much more accessible in the last few years as new people have moved in to revitalize the bars. Now they are more visible and easier to enter, and are usually very welcoming to foreigners. There seems to be a themed bar for everything on Golden Gai, from old video games to glitzy chandeliers. You can almost taste the postwar counterculture scene.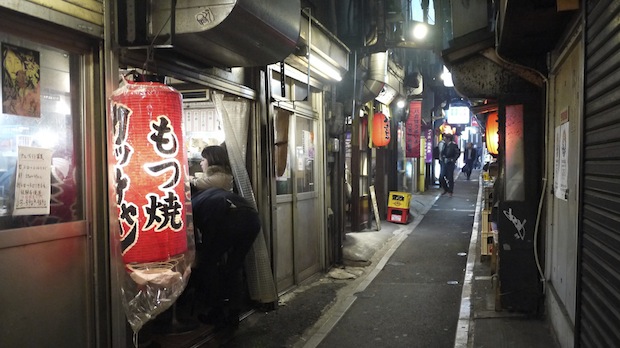 Image via Random Wire
Shinjuku San-chome
Between Isetan and Shinjuku's gay district in Ni-chome, this series of a streets offers lots of non-chains and international cuisine. There are some higher end wine bars and more modest and causal dining options for those seeking out Thai food and the like. The vibe on the streets is also always fun and it makes a pleasant change to jostling among the crowds nearer Shinjuku Station.
Shinjuku Omoide Yokocho
More narrow and rustic than Golden Gai, this is the place to explore if you want to stock up on some smokey chargrilled meat on skewers, have your neighbor's elbows practically in your food, and always feel on the verge of falling off your stool — and into the passageway. Ah, Shinjuku!
Yoyogi Hachiman
Though ever threatening to transform into just another neighborhood for pseuds and hipsters, we just love how the backstreets around Yoyogi Park have started without fanfare to amass coffee shops, international restaurants and other hangouts. Ignore the rich types with overly groomed canines and just enjoy the organic foods and border-crossing cuisine on offer. Tomigaya and Yoyogi-Uehara are also nearby.
All right, so that was a very subjective and incomplete list. Do you have any others you would recommend?