To protect ourselves against COVID-19 and what with it being hay fever season, we have been wearing a mask almost all day, every day. But did you know that wearing a mask for a long period of time can be extremely damaging to the skin? If you think about it, wearing a tight mask wouldn't leave much room for your skin to breathe, and especially with it getting hotter outside, you're bound to sweat underneath your mask. This would, as a result, lead to acne breakouts and other skin problems we'd rather avoid.
Don't worry! The solution isn't to stop wearing a mask. To really save your skin from damage, simply add one of these Japanese face packs to your skincare routine and keep your skin looking healthy and glowing under the mask. Time to up your beauty game!
1. Hada Labo Gokujyun Alpha Mask
The first one on our list is the Hada Labo Gokujyun Alpha Mask. Hado Labo is a very popular Japanese skincare brand developed by Rohto Pharmaceutical and is well known for its moisturizing skincare products that contain hyaluronic acid. And the Hada Labo Gokujyun Alpha Mask is no exception. Coming in a pack of four, after cleansing your face, it is recommended that you leave it on for roughly 5-15 minutes. This hydrating face mask is also infused with collagen (great for reducing signs of aging) and you will love how it leaves your skin feeling soft and supple!
2. Flowfushi Saisei Sheet Mask Face Pack
Ranked #1 (face line mask) and #2 (eye zone mask) on Cosme (Japan's biggest beauty review site) as the best sheet mask in 2018, the Flowfushi Saisei Sheet Mask Face Pack definitely deserves its spot and lives up to expectations. A single mask has 50 billion lactic acid bacteria, three layers of superfine fibers Nanofront R, and 2.4 times the immersive capability of a regular face pack. The texture can be described as similar to a creamy emulsion, and it feels light and smooth on the skin. Each set includes two masks and offers enough for a seven-day treatment course. Depending on the area you wish to target, choose from three types: eye zone, face line, and mouth/lips. And that's not all! Each mask is cleverly designed and has dot prints that show exactly where the end mineral ingredients are concentrated.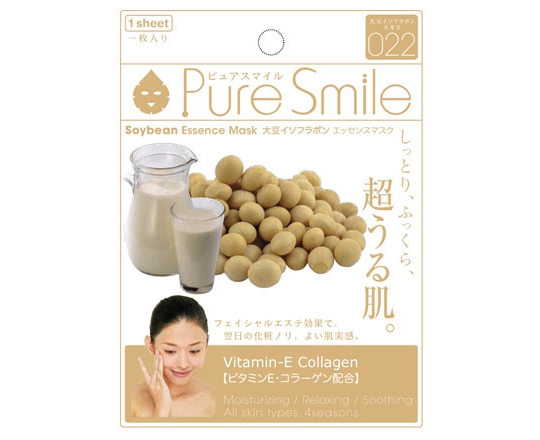 When it comes to skincare ingredients, the Japanese stick to what they know works best and prefer to use traditional, natural ingredients for healthy skin. This includes the Soybean Face Pack Set by Pure Smile, which is made with real soybean extract that helps hydrate and nourish the skin. Coming in a pack of three, this essence/lotion-type mask also uses vitamin E and collagen that aids in smoothing fine lines, and gives your skin a luxurious feel. It's perfect for all skin types, which means we can all finally say our goodbyes to dehydrated skin!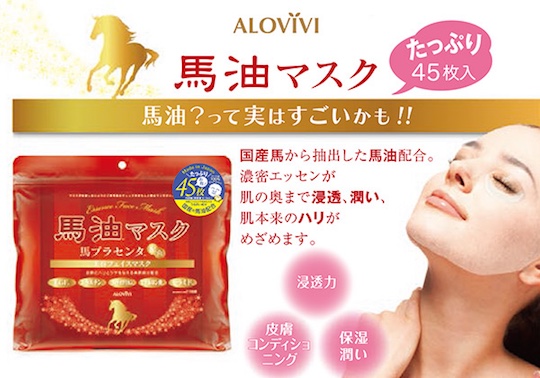 I know exactly what you're thinking. You read "horse oil" and you're wondering if you misread it or if it's a typing error. But no, you haven't misread it nor is it a typo. Horse oil is, in fact, a popular and traditional Japanese beauty remedy, known for being a great moisturizing ingredient. The Bahyu Horse Oil Face Packs, which comes in a set of 45 masks, contain essence compounds of Japanese horse oil and horse placenta. Made of 100% natural cotton, use this mask and you will see for yourself how effective it is at soothing, hydrating, and brightening up your skin. For anyone who asks about your skin, you'll be excited to tell them: "Oh, this is just my natural glow!"
5. Kyoto Matcha Premium LuLuLun Face Pack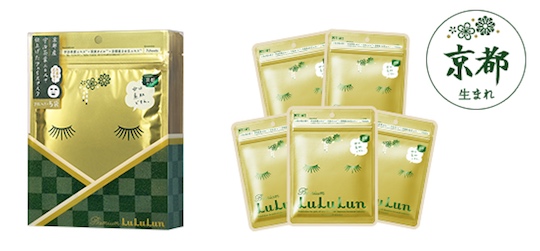 And finally, it wouldn't be quite right not to include a matcha face pack to the list. LuLuLun is another very popular Japanese beauty brand and is most known for its bestselling face masks. The Kyoto Matcha Premium LuLuLun Face Pack made with Uji green tea extract is a fantastic face pack that will hydrate and rejuvenate the skin while you enjoy the gentle and elegant fragrance of green tea. Green tea has been loved and used as a secret beauty ingredient in Kyoto for a long time. This face pack comes as a set of five bags, with each bag containing seven face packs. So for those who really enjoy using face packs, go ahead and use one every day of the week!