Japan faces a chronic aging problem: ,ore than a quarter of the population is over 65. There are now so many older citizens that the government won't give silver cups to newbie centenarian anymore!
The demand for more care-workers for this growing army of seniors, at least, can arguably be met by immigrant labor and robots.
But what about families who want to keep track of their elderly loved ones, who often live alone in remoter regions?
Recently a heat wave led to several deaths among seniors, including one family of three sisters who all died in the home they shared.
Japanese manufacturers are coming up with ways to deal with this demographic sea change.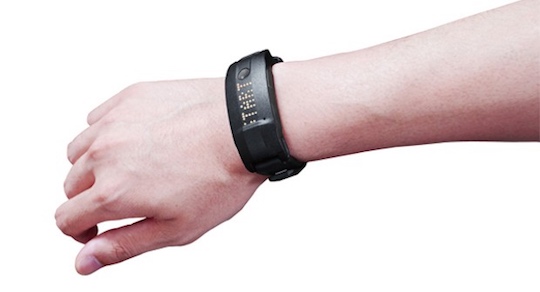 Toshiba has announced two Slimee Activity Tracker Smartbands equipped with sensors for acceleration, heart rate, heat, and ultraviolet. There are two smartbands, though only the W21 model has GPS.
Set for an autumn release, Toshiba has been developing the Bluetooth-enabled devices specifically for families who want to monitor the health and status of a remotely located senior relative. For example, the wristbands will be able to track if the wearer has been out in the sun too long or if their heart rate is unusual.
The wristbands connect with iOS and Android devices and are fitted with an emergency button so the wearer can send out an email alert if they need help.