Toyota has partnered with Amazon, DiDi, Mazda, Pizza Hut and Uber to form the e-Palette Alliance, forming a broad hardware and software ecosystem for utilizing advanced mobility technology to better serve customers in the future.
As a first step, Toyota has announced a new concept vehicle: the e-Palette is a fully autonomous, battery-electric vehicle with open control interface to allow partner companies to install their own automated driving system.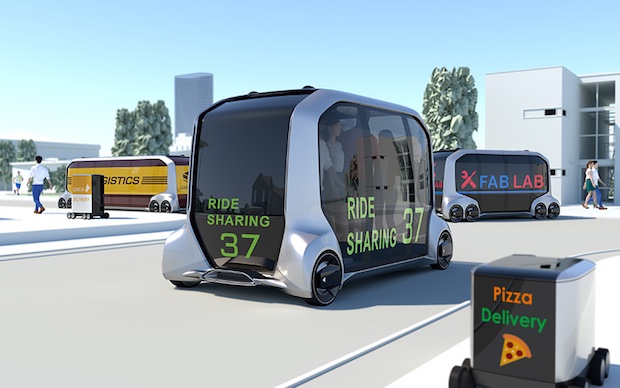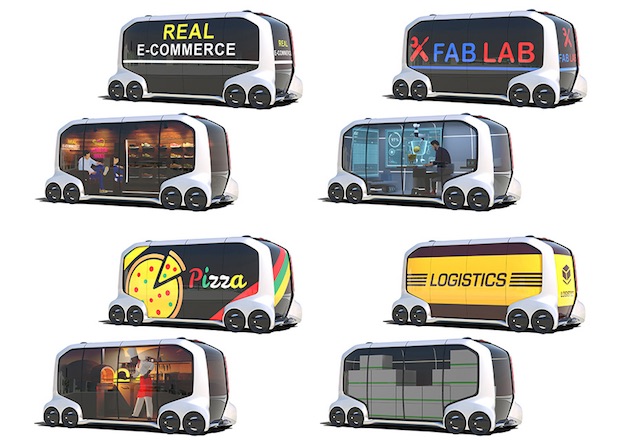 Unveiled at CES 2018 in Las Vegas, the new e-Palette Alliance is a flexible, purpose-built car that comes in three sizes and a cube-shaped design. The next-generation battery electric vehicle (BEV) is designed to be scalable and customizable for a range of Mobility as a Service (MaaS) businesses.
"The automobile industry is clearly amidst its most dramatic period of change as technologies like electrification, connected and automated driving are making significant progress. Toyota remains committed to making ever better cars. Just as important, we are developing mobility solutions to help everyone enjoy their lives, and we are doing our part to create an ever-better society for the next 100 years and beyond. This announcement marks a major step forward in our evolution towards sustainable mobility, demonstrating our continued expansion beyond traditional cars and trucks to the creation of new values including services for customers," said Toyota President Akio Toyoda.
In addition to its extensive interior space and low floor that can be modified into hotel rooms, eating spaces, offices and working environments, and more, other key features include the next-generation video control interface and compatibility with the car manufacturer's Mobility Services Platform.
Vehicle control technology is being used as an interface for technology providers. Technology providers can receive open Application Programming Interface (API) such as vehicle state and vehicle control, necessary for development of automated driving systems (automated driving control software and cameras/sensors, etc.). The e-Palette Concept also leverages the power of Toyota's Mobility Services Platform (MSPF) to enable over-the-air updates of the automated driving systems.

Vehicle information is gathered from the Data Communication Module (DCM) fitted to the e-Palette Concept and accumulated in the Toyota Big Data Center (TBDC) through a global communication platform. The e-Palette Concept will capitalize on this vehicle information to support a variety of finance options, as well as high-level maintenance in cooperation with Toyota dealers. The API required by service providers, like vehicle state and dynamic management, can be viewed on the MSPF.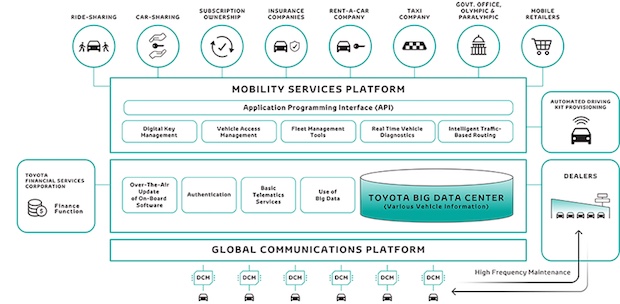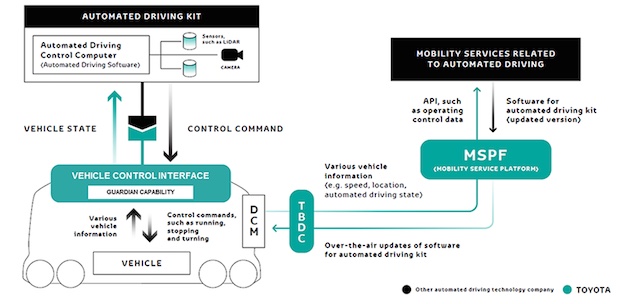 Consumers should expect feasibility testing of the e-Palette Concept in various regions, including the United States, in the early 2020s. Residents in Tokyo and visitors to the 2020 Olympic and Paralympic Games may get an early preview, though, since Toyota plans to provide mobility solutions like the e-Palette during the Games.