Okay, Wacky Japan alert… but this is quite fun, in a very cheeky way, and also might just be worthy of closer investigation. After all, here is a product that will not only turn heads, it might even get you arrested or at the very least send overseas blogs into overdrive.
The Upskirt Umbrella has been attracting a ton of buzz online, originating from a Rocket News 24 piece. While we don't agree with the allegations that this is "a thing" or the "latest bizarre trend" in Japan, we also cannot deny that it does tap into a certain subculture and fetish that is clearly alive and kicking.
As Japan Trend Shop (who are offering it for international orders) say:
The Upskirt Umbrella (or An-burera, a play on the words for "underpants" and "umbrella") by Million Girls Project might be the most original umbrella you ever buy. Please just be careful not to get arrested when using it, though! The Upskirt Umbrella is a very tongue-in-cheek spin on Japan's reputation for turning schoolgirls into sex objects. Well, it might not improve that image but it certainly makes for a novel way to keep the rain off your head!
How does it work? You open up the umbrella canopy. While the front shows an innocent moe character — enough of an embarrassment for some, you may think — the inside shows what the creators imagine her panties look like!
In other ways, the user has their own private viewing up the character's skirt.
There are even two versions, each with a different female character and panties. There is a stripy panties design and a "swimming costume" one, in case you're especially fussy about such matters.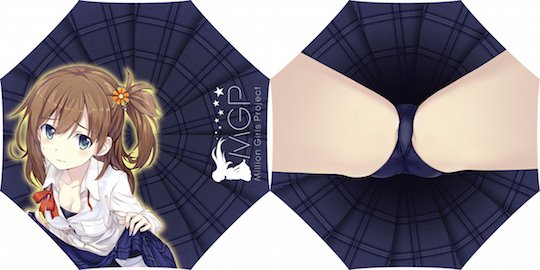 So the Upskirt Umbrella is a fringe item made as part of a tongue-in-cheek project. It was buried in the corner of stores in districts like Akihabara until it was discovered on social media. And so a "trend" is born. No, these are not "becoming popular", nor are they the "latest craze". But the product does have some interesting implications.
In Japan, this kind of "up-skirt panties view" fetish is known as panchira, and its existence is at least one of the reasons why phone cameras in Japan had to be fitted with a "shutter" sound effect.
It could be just creepy — and it is, with plenty of local men making the news each year when they get arrested for sneaking shots up girls' panties on trains or escalators, or even by hiding in a storm drain — but there is something bigger at play here beyond the tabloid sleaze.
For example, here is adidas in Japan also lending mainstream cachet to panchira through an advertising campaign.
And this Rock 'n' Roll Panty video shows what happens when "the sounds from various instruments are fed into a dedicated device which pumps the sounds from large speakers and also generates wind by strong resonances. The wind is used to blow the skirt up and so you can have a peek at a pair of panties!" Of course, you might well just respond: But why?
And then there is this "schoolgirl flip-skirt" calendar that has become a cult favorite.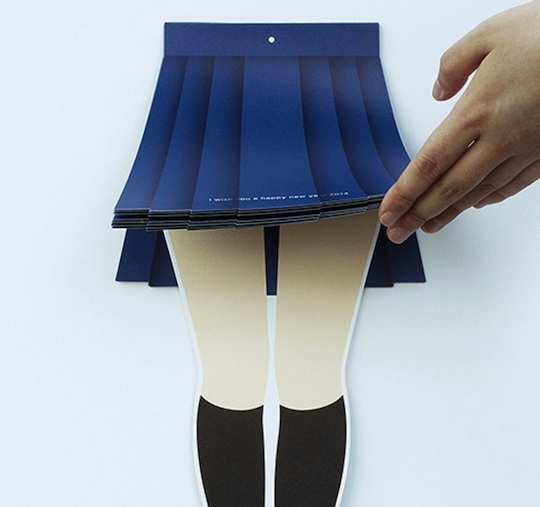 We will leave it to the cultural anthropologists to debate fully, but this obsession with panchira might well reveal a deep-seated fixation on what is forbidden and concealed, in a highly codified nation replete with hidden rules at almost level (social, professional, political) that work to restrict individuals.
On a lighter note, what is it about Japan and umbrellas? There never seems to be any shortage of fun designs out there, from upside down ones to lettuce-themed ones, Mt Fuji-style ones and even animal tail designs.