The magazine anan recently created waves with its September 16th issue, which featured the actress Nozomi Sasaki on the cover promising a special risque showcase of her "chic, beautiful breasts".
The women's weekly beauty and fashion magazine always likes to generate mini bumps of buzz with each issue and this one was no exception. After it went on sale in stores from September 9th, lots of people were talking about how cute Sasaki looked on the cover. They couldn't wait to get their hands on the pages and see how Sasaki achieved her look.
However, readers who bought the (significantly cheaper) Kindle edition of the magazine were outraged to find that the main content — the Sasaki shoot — was not available. This rapidly led to a rash of one-star reviews on Amazon. Shame-faced, anan's publisher Magazine House issued an official apology on September 17th and stopped selling the Kindle issue. It is currently reimbursing all digital customers.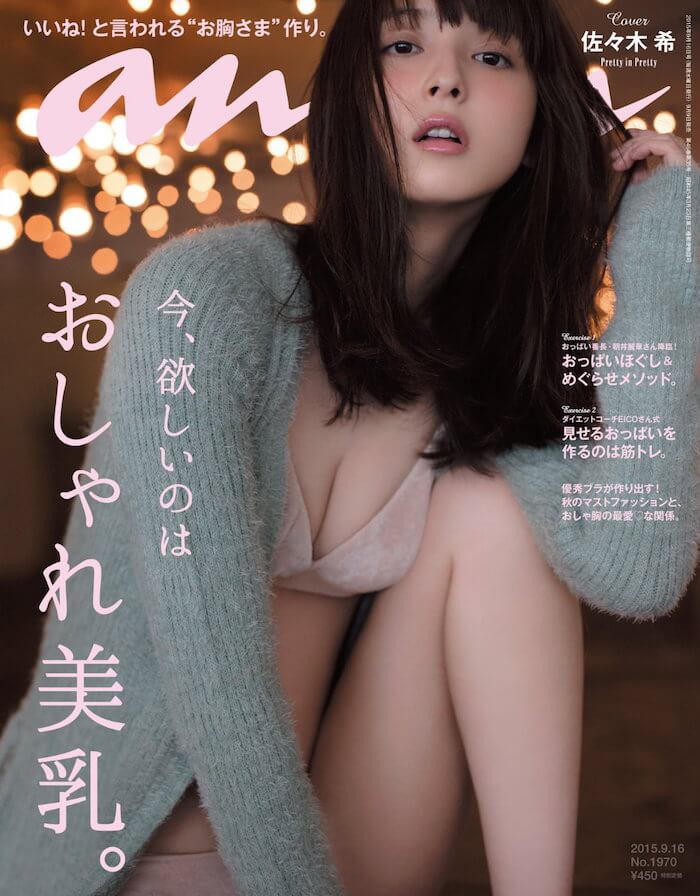 The problem lay with Sasaki's agency, who withheld portrait rights on the images (shot taken by anan) to be used for the Kindle edition. Presumably this was an attempt to prevent the images being shared online. This is strange, considering that far, far more revealing shots of Sasaki are easily available from when she was more of a glamor model than a mainstream actress, and she has also posed for anan shoots before.
This is another example of how the publishing industry in Japan is in thrall to the powerful talent agencies, who control the use of images of their celebrities very tightly (and will also certainly edit and demand changes to article text too).
This means that online retailers sometimes cannot show preview images of certain magazine issues, because the online rights to the portraits have not been given by the agencies.
Here's an anecdote by web journal Néojaponisme from 2007 about the magazine CanCam featuring actor Takuya Kimura on its cover.
I went over to the JJ site to check out the contents and noticed something odd about the cover. Just a white box with the logo? I had assumed this was a temporary solution to some sort of design problem, that the proper cover image would be up in no time. But I went over to the bookstore and noticed something extraordinary: Takuya Kimura from SMAP on the cover, sandwiched between two of the normal JJ models.

So the blank image was no mistake at all! Again we see the draconian and utterly ridiculous Johnny's jimusho [agency] policy towards images of its stars used on the internet. Yes, JJ can use Takuya Kimura on its cover, available in newsstands across the land, but no, JJ cannot use its own cover image on the internet to promote the issue. Otherwise, people on the internet may be able to figure out what Kimura Takuya looks like. Or they will be so mollified by a tiny 155 x 193 pixel jpg that they'll cease buying those 3″x5″s of Kimutaku at idol shops in Harajuku. Or Johnny's is just so controlling that they even don't let their talents hang mirrors in the company dorm lest light reflect upon a surface and portraits be viewed without proper payment.
But that was back in 2007. Surely things have improved since then, right? Perhaps there has been some relaxation but the mentality still holds fast.
This is another recent anan cover. If you're a fan of Arashi, don't worry. Your favorite male idols haven't suddenly transformed into gray outlines. The publisher isn't allowed to use the boys' images when selling the issue online — or even on their own website! Because we all know what terrible things would happen if people were to download the image.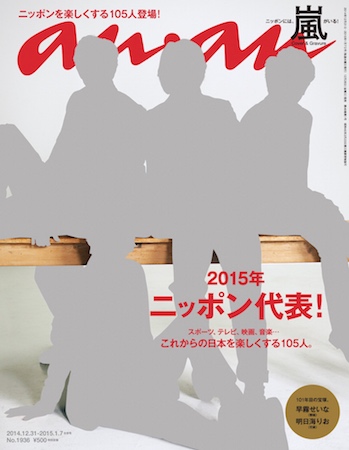 Anan has quite a reputation among Japanese women's magazines. It regularly publishes special issues with famous female stars stripping off. While this September issue was not quite in the same vein, its promise of Nozomi Sasaki's "chic, beautiful breasts" on the front cover was not far off.
Certain models, music idols, and actresses have chosen to pose for fairly provocative yet tastefully created shoots to boost their image. It has proven successful for AKB48 idols like Haruna Kojima, Yuko Oshima, and Yuki Kashiwagi, actresses like Yui Ichikawa and Ryoko Yonekura, and other celebrities such as Maomi Yuuki and Shiho, among many others.
Curiously, the readership for those issues is still female (no doubt some guys sneak a peek too). The young women buy the magazine to see the sexy images of the model or actress they admire, and marvel at her style and physique. Likewise, anan also publishes an annual August "sex issue" with detailed erotic guides and semi-nude shoots by popular male actors and idols.