Which Japanese fashion model do you look like?
That's the tempting question asked by Dare Who?, a website that allows you to upload your portrait and then let it analyze and calculate your closest match.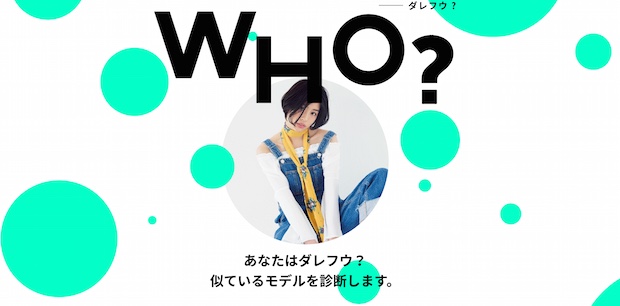 The ego-stroking website is available until April 22nd.
Dare Who? (that's "da-re", which means "who" in Japanese) is hosted by Fashion Hack Tokyo after the creators were awarded top prize by the contest. The software is FaceU, a facial recognition system developed using a docomo Developer support API.

It works with four magazine partners (25ans, CanCam, MORE and ViVI), and features eight popular fashion models from those magazines, including Elaiza Ikeda, Mizuki Yamamoto, Shiori Sato, Yui Sakuma, and Arisa Yagi.
This type of digital "beauty analysis" tool can be used effectively as a promotional tool.
Pola Apex did something similar in 2014 with posters and video panels around Tokyo, analyzing a face on a radar chart. The strikingly distorted results were very eye-cathing and, considering that they were advertising a cosmetics brands, also raised interesting questions about how we define beauty.
In Japan, fashion models are contracted to certain magazines and readers develop a strong attachment to them to the extent of purchasing books of their "essays" and following their blogs and social media accounts avidly. The intimate relationship between female fans and fashion models is one of the reasons for the success of Tokyo Girls Collection, the fashion show and retail event that is based on attracting young female consumers to the capital to see their favorite models in person.