Family restaurant chain Coco's has teamed up with android and robotics creator Hiroshi Ishiguro to offer tabletop robots that can entertain diners while they wait for their orders.
The small robots were tested at a Coco's branch in Hiyoshi, Yokohama, from March 29th to April 4th. Dressed in white cook costumes, robots attempted to communicate with children and families to make the time spent waiting go faster. Three robots measuring around 30cm in height were placed on different tables at the restaurant, interacting with a total of 57 families and groups (or 150 individuals).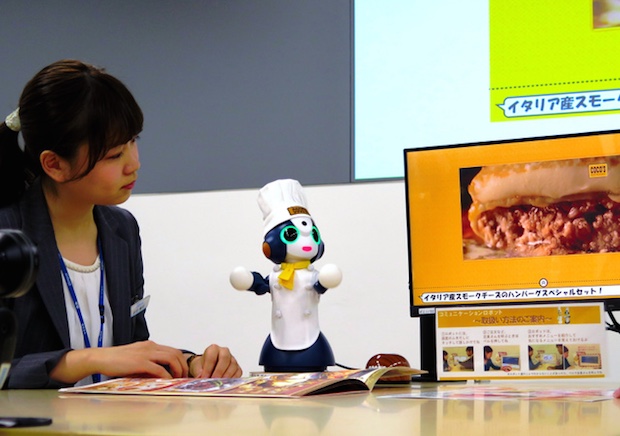 The robots were Sota and CommU, both of which were co-developed by Ishiguro's robots lab at Osaka University in partnership with Vstone, the established name in consumer robotics responsible for such popular robots as the Robovie. Customers interacted with Sota or CommU with the aid of a tablet device.
The Japanese press reports about this are painted all over with declarations of "omotenashi" (hospitality), which is the most ubiquitous Olympic buzzword. What a lot of the people who plan these things don't seem to realize is that tourists won't accept these gimmicks as genuine omotenashi: it will just be something wacky to laugh at and post on Facebook.
Coco's hopes to make this a permanent fixture by 2020, starting initially with a single restaurant. Robots could be programmed to speak multiple languages and communicate with various demographics in different ways.
Image via the Asahi Shimbun