Our love for all things Maywa Denki is no secret. We recently went wild about Mr Knocky, their unique drum toy, and also think their retro Otona no Kagaku Maywa Denki Automa-te Auto Writer Hand is cool as hell.
If you're a fan of original gadgets, especially musical ones, then Maywa Denki are the folk for you.
The original Otamatone came out a few years and was quite a global hit. It's seen some updates over the time since but here's the first major re-release: the Otamatone Digital.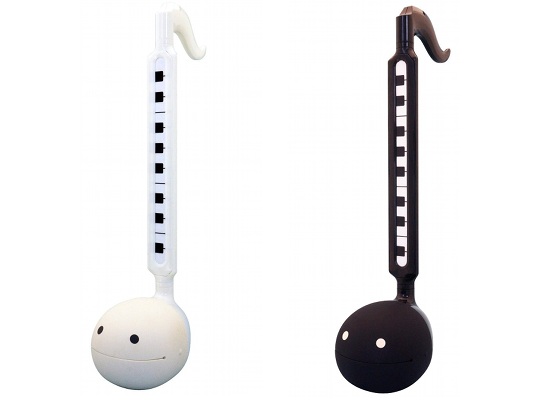 This is a reinterpretation of the theremin (as we know, a popular instrument in Japan) but it reinvents the musical instrument in terms of look, sound and action.
For a start, it looks like a large musical note (or tadpole) with a face. You use the stem to "play" the notes and then control the "mouth" to adjust the sound that is produced.
The Otamatone Digital can play chords and has a back switch to change octaves. As before, you play the notes along the stem (they even provide you with "stickers" so you can see what you are playing) and vary the sound through the mouth, though now there are improved "modes" so you can create great sounds like a kick drum, snare, bell or cymbal.
Here's Maywa Denki honcho Novumichi Tosa giving a demonstration.
You can play chords (even "power chords") and "drums" on this tadpole. A mini theremin rock concert? You bet!
Here are several Otamatone Digital instruments playing "The Frog Song".
The Otamatone Digital is available in black or white versions.
You can get the Otamatone Digital from Japan Trend Shop.