As we know, Christmas in Japan is different breed: it involves strawberry shortcake, KFC, and romance.
Now United States ambassador to Japan, Caroline Kennedy, has got into the festive spirit by making a YouTube music video with fellow staff from the Tokyo embassy and consulate offices in Sapporo, Nagoya, Osaka, Kobe, Fukuoka and Okinawa.
The video is a version of the "koi" (crush) dance routine that has become popular thanks to a recent Japanese comedy show.
Kennedy dresses up in a Santa Claus outfit while other embassy staffers wear reindeer caps as they dance to "Koi," the theme song of the TV drama "Nigeru wa Haji da ga Yaku ni Tatsu" (Running Away is Shameful but Useful), which was broadcast on TBS until this week with Yui Aragaki and Gen Hoshino.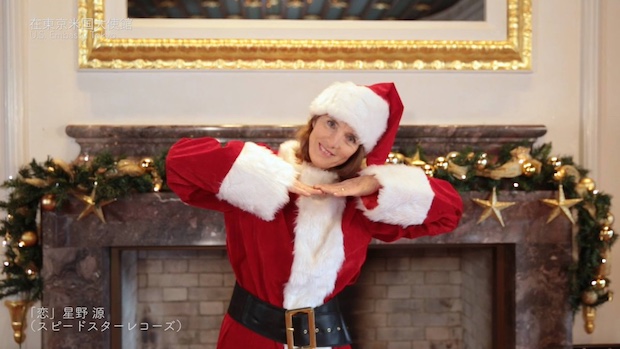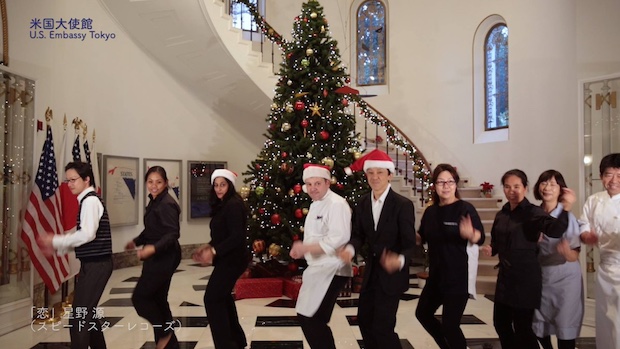 Uploaded on December 20th, the 90-second clip has gone viral, accumulating over half a million views at time of writing.
It also features one male staffer dress up like the Hoshino character. Also look out for Kumamon, the black bear promotional mascot for Kumamoto Prefecture.
The theme song — also written and sung by Gen Hoshino — has been one of the most popular songs of the year. Its video has been viewed over 50 million times on YouTube.
Like many other pop songs and music videos, it has inspired many "versions" by amateurs and various groups on YouTube. A similar thing happened with the AKB48 song "Koi suru Fortune Cookie" and Pharrell Williams' "Happy".
Kennedy has been a prominent ambassador, frequently in the public eye for speaking out against the dolphin hunt in Taiji and appearing at the gay pride parade in Tokyo. This has helped to soften the relationship between the United States and Japan, which has been troubled by the issues of TPP and continued controversies over the military bases in the country, especially in Okinawa. This was highlighted just recently by an Osprey crash in shallow waters in Okinawa on December 13th.