We first wrote back in 2014 about Babymetal's quest to conquer the world after they were covered by the online edition of UK fashion magazine i-D. At the time, the part gothic Lolita idols, part heavy metal band Babymetal had just appeared at Sonicsphere alongside the likes of Iron Maiden.
Their unique style seems to have already inspired imitators. The KISS and Momoiro Clover Z collaboration last year seemed uncannily Babymetal-esque in places.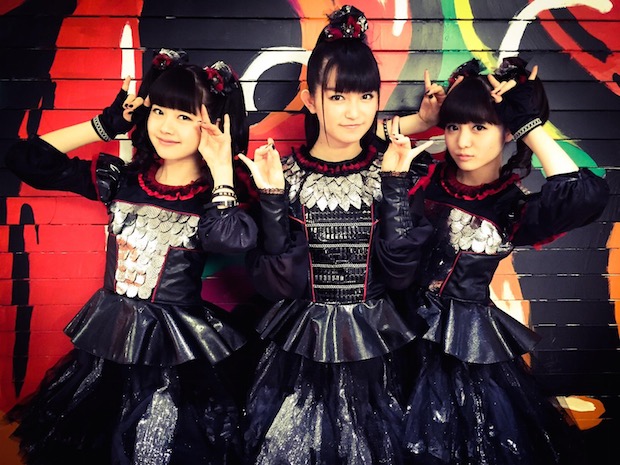 Now Japanese band Babymetal have taken another step forward in their endeavors to achieve global status by making their U.S. television debut. The trio of young ladies performed "Gimme Chocolate!!" from their latest album, "Metal Resistance", on The Late Show with Stephen Colbert.
As host Stephen Colbert says, "I'm not sure what I'm about to see, but I'm pretty excited about it."
The "sugarpop, pint-sized idols" also got a rave review from The Guardian of their recent Wembley Arena gig to promote their second album.
In 2014, Babymetal hype reached UK shores and landed them a headline show at the Forum in London. Later that year they stepped up to Brixton Academy, and now, much to everyone's disbelief, they are filling Wembley Arena. The curiosity and novelty of checking out a metal J-pop band fronted by three teen girls in tutus has passed. This isn't another metal gimmick: it's a legitimate phenomenon.

There is no longer anything about them that seems ridiculous. The band are tight and there is spotlit time enough for wailing solos and breakdowns. Given this versatile space and production budget, slick dance routines and the blending of every genre from trap to bubblegum pop suddenly makes perfect sense. The group are a true product of idol culture, each pristine girl present to see us just as much as the 12,000 of us are there to worship them. The adoration is radiating from every bloke with a tear in his eye.
That being said, as any glance at the YouTube video and other articles on blogs and news sites will show, Babymetal seem to be a bit division. Some adore them. Others think they are clever twist on genre and style. While others can't see what the fuss is about. Nonetheless, they now have a cult following and full mainstream success may be just around the corner.
This beggars the bigger question, and it's a tricky one: are we witnessing an exciting new wave of American and European interest in Japanese pop music? Or is this just accidental fodder for the "Wacky Japan" machine?
The jury's still out but, in the meantime, Babymetal are still rocking away.