After previous successes such as Infinity of Flowers with Gucci and Night Wonder Aquarium, teamLab has now teamed up with online retailer DMM and Fuji TV to create a new major summer attraction in Tokyo Bay.
"DMM.Planets art by teamLab" has a somewhat Japanese-English title and opens at a venue at Odaiba Dream World on July 16th. Running until August 31st, the immersive event brings together previous teamLab installations and also a new piece, "Floating in the Falling Universe of Flowers", which features 10 million digital flowers inside a 21 x 10.8-meter dome.
The makers describe the new installation:
A seasonal year of flowers bloom in this ever changing universe of flowers that spreads out into infinity in the dome art installation space.

Viewers can use their smartphones to select butterflies and release them into the flower universe.

Neither a pre-recorded animation nor on loop, the work is rendered in real time by a computer program. The interaction between the viewer and the installation causes continuous change in the artwork. Flowers are born, they grow, bud, bloom, and in time, the petals fall, and the flowers wither and die. The cycle of birth and death continues for perpetuity. Previous visual states can never be replicated, and will never reoccur.
Other installations include "Wander through the Crystal Universe", in which particles of light are digitally controlled and change depending on how the viewer interacts with the installation through their phone.
Tickets to the event cost ¥2,000 for a one-day pass.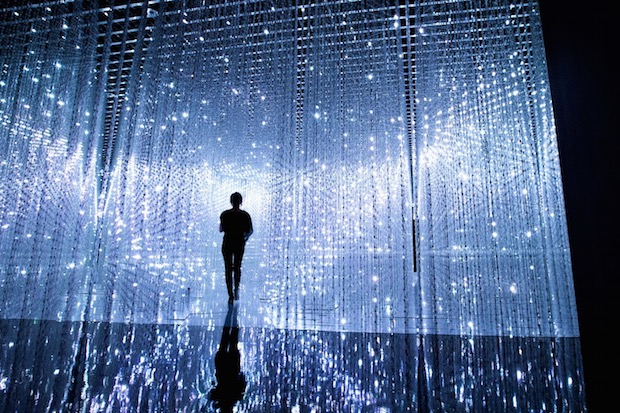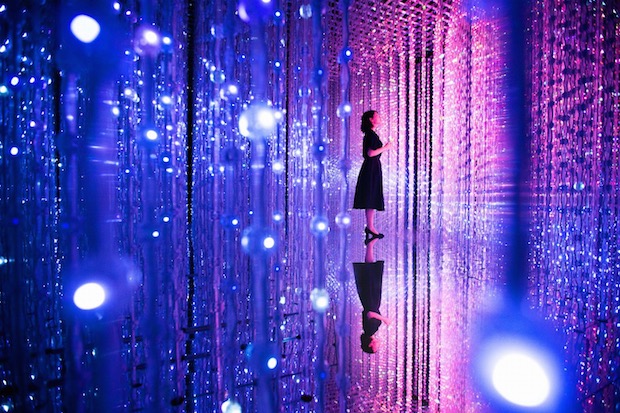 Along with the Art Aquarium series, these kinds of events that combine art, spectacle and selfie-friendly scenes are proving massively popular in Japan. Sega Toys recently jumped on the band wagon with the Art Aquarium Prisrium, a compact version of the Art Aquarium exhibits for home consumption.
TeamLab describes itself as a group of "ultra-technologists" aspiring to "expand art". The collective is also taking part in Kenpoku Art 2016 in Ibaraki Prefecture this autumn, which is meant to be the largest art festival in Japan. Outside Japan, its installations have been seen in California, Ohio, London, Australia, Bangkok and more.
Although it is best known for online shopping, DMM has all kinds of other creative side projects that make it a suitable partner for producing the teamLab event. Dmm.make, one of DMM's endeavors, is at the heart of Tokyo's current maker culture and fab lab boom.