Kota Hatachi of BuzzFeed News Japan has investigated a bizarre and unsettling case where Tokyo police seemed to link Airbnb with foreign terrorism.
Shibuya police put up an illustrated poster showing a gallery of mixed and swarthy faces around the message: "In order to protect against terrorism and protect the Olympics, we need your information. We are especially collecting information about detached houses engaged in minpaku."
While there is no direct reference to the non-Japanese faces, the implication is that foreigners staying at private residences (minpaku) may be planning a terrorist attack on Tokyo during the Olympic Games in 2020. The police want citizens to proffer information if they believe that something suspicious is happening at a house.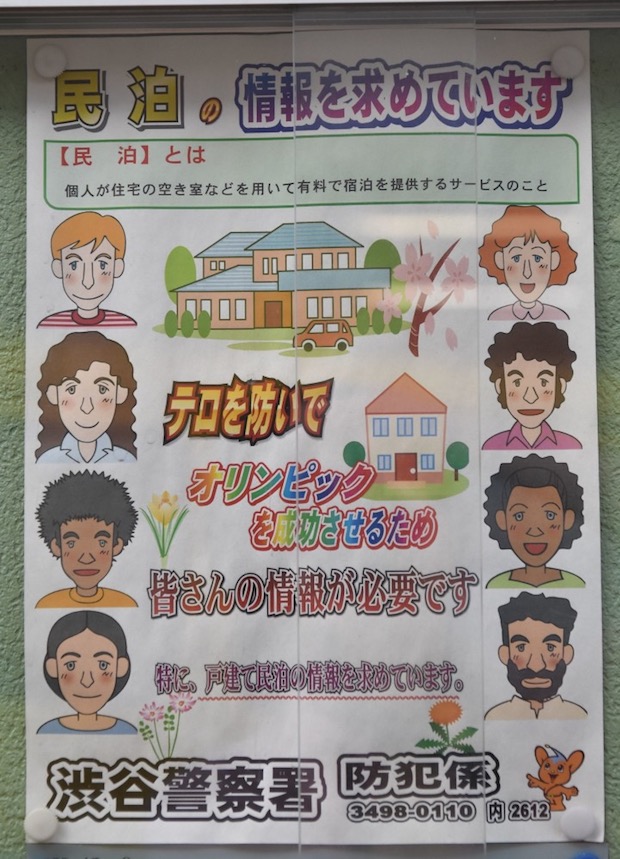 BuzzFeed News attempted to speak to the Shibuya police station. Turned away when they went to the station directly, they were given the PR office's phone number. The journalist was then told that questions were only accepted by fax. Dutifully sending in a fax, a response came back two days later explaining that the "foreign faces" were chosen to show how Airbnb-style services were expanding, and the police wanted "foreign tourists also to feel safe during their visit".
It is not known to what extent the poster was distributed or how it was used, though the online storm created by the Buzzfeed News article may mean police will be reluctant to employ a similar campaign in the future.
Although the recent killings of Japanese citizens in the Middle East and in Bangladesh has attracted headlines, there has been as yet no recent cases of terrorism in Japan carried out by foreign nationals with the exception of an attempted bombing of Yasukuni Shrine in 2015. In fact, the threat of domestic-grown terrorist attacks, such as the 1995 Tokyo subway sarin attack, is arguably far more significant and dangerous.
The police poster seems part of the growing backlash against minpaku by the hotel industry and the authorities. Minpaku is a private residence that is rented out, typically as short-term accommodation for tourists. This is most obviously represented by Airbnb, which has been surging in Japan since it launched locally in 2014. Police agencies have clamped down on certain illegal minpaku as hoteliers call for minpaku operators to be registered as business entities. Local citizens have also complained about the side effects of minpaku, such as trash being put out on the wrong days of the week.
The government is torn between embracing the minpaku revolution or protecting its lobbyists in the hotel industry. It wants to attract 20 million tourists annually in the run-up to the 2020 Olympic Games, but there aren't enough hotels. In April, it relaxed the Inns and Hotels Law to make it easier for individuals to operate private homes legally as lodgings, though some municipalities — including wards in Tokyo — still have their own rules that restrict what constitutes a legal minpaku, such as having a front desk.