Sometimes it can seem that Hello Kitty, Sanrio's popular cat character, is everywhere. Her cute iconic image adorns a nearly Mt Fuji-sized mountain of merchandise, from clothes to books, pens, gadgets and even vacuum cleaners.
But Hello Kitty just went one, astronomical step further. She has now headed into space. Going boldly where no Japanese kawaii character has gone before, Hello Kitty has been sent into space on a government-funded mission.
Following in the wake of another example of Japanese culture that recently entered space (bonsai plant sculptures!), the government is apparently so keen on its Cool Japan campaign that promotes the nation through the soft power of "cute" pop culture and subcultures that it wants to advertise this even to extraterrestrials. (Okay, we're joking. The ostensible goal of the stunt is to encourage private company investment in satellite technology and research.)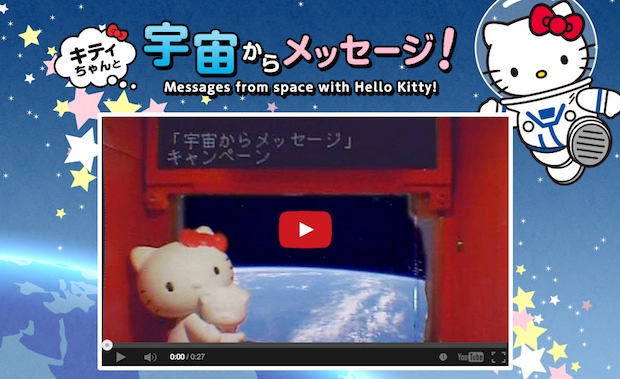 Kitty-chan (well, a 4-cm [1.6″] Hello Kitty figure) is on board the Hodoyoshi-3 satellite, which is 50 x 50 x 70cm (8 x 8 x 28″) in size and costs $40 million. Hello Kitty has pride of place looking out of the window down at Earth and all her admirers. The satellite launched back in June but only this week did the organizers manage to get the right image of Kitty on board with the Earth in the background.
The special Hello Kitty in space website declares: "Hello Kitty is standing by to deliver your messages from space." Sanrio has asked fans to submit 180-character messages on the theme of "Thank You From Space" for Kitty-chan to "send" to us earthlings. Ten messages will be selected from entries and transmitted once per day in late August and early September. Submissions can be made in English or Japanese. There will be then be another round of submissions in September with a different theme for the messages.
Hello Kitty is on an all-time exposure high at the moment, with Sanrio launching a tidal wave of campaigns and tie-ups as part of a 40th-anniversary celebration. Examples include a special Hello Kitty train in Wakayama and a remarkable Chogokin "robot" model.
Incredible as this news is, though, it is apparently not Hello Kitty's first mission into space.